Are you looking for comprehensive homeowners insurance coverage that gives you peace of mind?
Look no further than Safer Insurance! Our dedicated team is committed to safeguarding your home and personal belongings against unexpected events.
Speak with one of our friendly representatives. Don't leave the safety of your home to chance.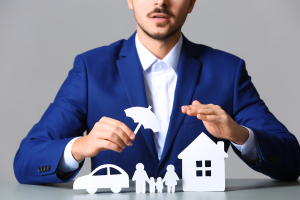 Insurance Coverage Available for Your Home
Dwelling Protection
Dwelling coverage may pay for damage to your house and structures permanently attached to it if it's damaged by a covered hazard
Other Structures
Helps to repair or replace detached structures like garages, gazebos, patios, sheds, pergolas, fences, etc.
Personal Property
Personal property coverage may cover your personal belongings damaged, destroyed, or stolen due to a covered peril or loss
Loss of Use
Can help pay for the cost of living somewhere else while your home is repaired if a covered event males your house uninhabitable while it's being repaired or rebuilt
Liability
Coverage to pay for lawsuits for bodily injury or property damage that you or family members cause to other people. It may also pay for damage caused by your pets
Medical Payments
This coverage may pay medical bills (up to your coverage limits) for people accidentally injured on your property
Properties Eligible for Insurance Coverage
Homeowners insurance provides coverage to repair or rebuild your home along with furniture, clothing, and other possessions after events like fire, smoke, theft, vandalism, a falling tree, or damage caused by weather such as lightning, wind, or hail. In addition, they cover liability and medical expenses if people besides you or your family is injured on your property.
Renters' insurance, often called tenants' insurance, is an insurance policy that provides some of the benefits of homeowners' insurance like repair or replace personal property, liability, medical payments, loss of use, but does not include coverage for the dwelling, or structure.
Even if your condo association has insurance, you may still need condo insurance. It can help cover liability claims, damage to your condominium unit and belongings, and additional living expenses
Our manufactured home and mobile home insurance helps provide a broad level of protection for you and your home. Due to the unique construction and vulnerability of the mobile homes to certain weather, such as windstorms, typically don't qualify for traditional homeowners insurance. Instead, you need to look into mobile home insurance.
Landlord insurance is a type of property insurance meant to protect you from financial loss and obligations associated with your rental properties. Provide coverage for property damage, lost rental income when a property becomes uninhabitable, and liability.
Despite common household belief, Earthquake Insurance is not included in standard homeowner's policies. You can benefit from the security an earthquake insurance policy provides.
Flood damage is not covered under homeowners insurance policy. You need to buy a separate policy to have financial protection from floods that cause damage to structures and property.